TREATMENT OF WRINKLES, LARGE PORES, SKIN TEXTURE & REDNESS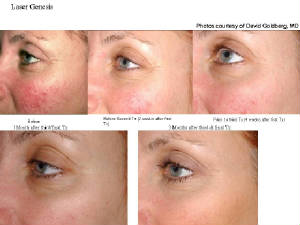 The Laser Genensis procedure utilizes non-invasive laser technology to safely, discretely and effectively treat fine line wrinkles, large pores, uneven skin texture, diffuse redness and scars. You can expect to see subtle yet consistent results after each treatment, without unwanted side effects such as bruising or excessive skin irritation. Treatments can be performed in a relaxed, comfortable manner without the use of topical anesthetics or gel.
How Many Treatments Will I Require To Achieve My Results?
Results varies by patients. We recommend an average of 3 to 8 treatments; depending on the treatment area and the condition of the skin.
Is This Type Of Laser Safe For My Skin?
Will I Experience Changes In Skin Tone?
Our lasers target light to dark skin. Some patients experience slight skin discoloration in the treatment area. However, it is usually temporary and skin returns to its normal color in a few short weeks.
Will The Doctor Treat Me Or A Member Of Her Staff?
Dr. Alonso-Prieguez performs all the treatments and services she offers herself.